The world will be a better place, says Sister Rosemarie Nassif, when people are aware of, and support the work of Catholic sisters.
"The global sisterhood is a very powerful network and it hasn't yet been fully unleashed," Nassif says. "Unleashing that network can bring such tremendous positive realities to our entire world."
Nassif directs the Catholic Sisters Initiative at the Conrad N. Hilton Foundation. The foundation recently paid for public opinion research about sisters.
"We're committed here to assure that (the sisters) network has a life, and a life that can continue to change the lives of the millions across our globe whose lives are so precious and yet so vulnerable," says Nassif.
The Hilton Foundation is the legacy of its namesake, the late hotel founder, whose affection for sisters began when he was taught by the Sisters of Loreto. The foundation spends $17 million dollars a year funding sisters' work to help the poor around the world. So the foundation wanted to learn more about what people think about Catholic sisters, and how Catholic churchwomen can build their brand.
"We believe that how people perceive sisters–no matter if they're Catholic, or Jewish or Muslim or Hindu–kind of ingrains a dynamic in the culture that can influence how our works and prayers can be received, can be in some way emulated," says Nassif.
The research found that most people–73 percent–like Catholic sisters, without having very accurate ideas about what most sisters do today. For example, many people don't think sisters' work impacts non-Catholics. But Nassif says that's simply false.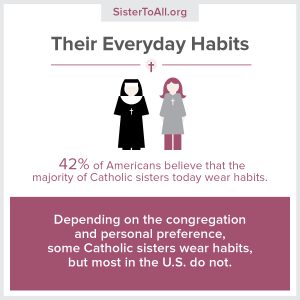 "The truth is that sisters serve all," she says. "No matter the religion, the ethnicity, the socio-economic status–although they do prefer the poor. And we feel that correcting that false perception among all people is very important not only to sisters–it's very important to our nation."
The research firm Anderson Robbins conducted about 15-hundred interviews about sisters.
"These women are trailblazers, risk-takers and pioneers," says Anderson Robbins' CEO Jennifer Robbins. "These are words that could be used to describe them 100 years ago and still today."
Robbins isn't Catholic and hadn't done a study on any Catholic issues previously. She says she was "just amazed by what type of role these women played in our country's history. …It was everything from work to help disadvantaged and poor to talking about how they were the first nurses on Navy ships. How a Catholic sister helped invent the first incubator for babies."
Robbins says the people she spoke with at focus groups were also surprised.
"In some of these groups, after all was said and done, people wanted me to keep sharing information about these women. There was a real appetite for more detailed information," Robbins says. "It was like like I blew their minds."
The survey found a third of all Americans want to learn more about Catholic Sisters. The researcher says more knowledge may help those considering life as sisters to encounter a little less friction at home. Forty-three percent of people who answered the survey said that if they had a daughter considering the sisterhood, they'd support her completely. But 13 percent would urge her to re-consider and six percent would strongly oppose the decision.
"While these people think Catholic sisters are wonderful and doing great work, to the extent they know about sisters, they think that entering religious life is synonymous with giving up your dreams," Robbins says. "That's also not the case. Catholic sisters are physicians, social workers, engineers. This misperception about who they are and what they do really is kind of clouding people's judgments about Catholic sisters and the opportunities one might have in religious life."
The foundation has kicked off a public awareness campaign developed in tandem with the research. It's called Sister to All and it highlights the work of Catholic churchwomen. The first group of sisters the campaign is showing off includes a sister teaching Muslim immigrants from Yemen to learn English, a sister who works with prostitutes on the street, and one who works to find shelter for homeless people.
"What we want to do is present a more accurate image of sisters today," Nassif says. To learn more about the research and campaign, listen to the audio interviews embedded in this post, and go to SisterToAll.org.
This is part of Unabridged Press' Standup Sisters project, sharing the work and stories of sisters in live events and podcasts. Standup Sisters received a minigrant earlier this year from the Hilton Foundation. To learn more, contact Jennifer@unabridgedpress.com.