The Standup Sisters project recognizes women of faith by offering them a platform to share their stories. In this post, Unabridged Press' founder shares a story of a sister who she looked up to. 
Monica Sheeran was my first nun friend. She called me her "young friend," and she was my sage. What sealed the deal, from the first meeting, was her laugh. 
We met one night after a joy-filled Catholic Worker Mass and meal in Albany, New York. The petite white-haired sister introduced herself and flashed her welcoming smile to me and another friend of mine. After my friend teased Monica for something, the sister responded in kind with a playful light whack with a rolled newspaper at my friend's shoulder. Sister Monica gave us a wicked laugh that had all of us giggling. And I felt that great happy spark of a new friendship.
A letter Sister Monica wrote me years later offers a taste of her humor, and her delight with technology: "I have got quite skilled in scanning photos…One good thing about photos scanned, they hide the blemishes!!"
I learned quickly from Sister Monica that life as a Catholic sister left room for a little irreverence, and for a lot of joy. She was the woman who taught me that, "It's better to beg for forgiveness than to ask for permission." She used this passage when she occasionally drove through yellow lights. In her gentle British accent, she'd say, "Hello, Amber," and give a Queen's wave to the changing light as she passed.
Sister Monica and I weren't always laughing. We both frequently considered how we could help with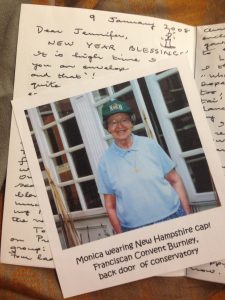 the difficult problems in the world–though she did more to that end than me. For decades, Sister Monica was a missionary in Kenya and the Philippines, teaching orphan children how to read, write, and put on plays. She was in the religious order based in England known as the Franciscan Missionary Sisters of St. Joseph. A shared interest in speaking out against injustices is how we found ourselves at the Catholic Worker that night, praying for prisoners, the homeless, the drug-addicted, the lost.
Though Sister Monica was a bit more than 40 years older than me, using the word "sister" to address her felt true as any biological kinship. We shared an easy, deep give-and-take in discussing the news of the day, movies, art, dancing, writing, and love. Despite her years of experience, she never pulled rank.
For a while, Sister Monica and I saw each other at least weekly at Sunday Mass. We'd sit together and sing together. At the end, we'd exchange a big manila envelope with notes we'd written each other during the week, usually attached to clippings of inspiring articles we'd read.  Monica also put her poetry in these envelopes. At the time we met, I was writing and editing for The Associated Press. Sister Monica challenged me to more creative writing projects. She would instruct me to go through my writing line-by-line with a pencil crossing out the unnecessary words. Given my high opinion of my work at the time, I found it a little insulting. But if you knew Monica, you listened. Her kindness commanded it.
Without saying so, Monica also taught me how to sit and shut up. That is, she introduced me to the form of quiet contemplative prayer known as centering. It was something I greatly needed then, and now. Sometimes she sat with me in a parked car with the windows down near a little pond and closed our eyes and sat quietly, before walking around the water. Or she'd visit me in my apartment and we'd sit on my couch and do our centering prayer. Often had some wonderful spiritual insights she'd share with me after the quiet time. I typically had NO big thoughts, but that didn't matter. It didn't matter that her prayer life was much deeper than my own. We were friends and you accept your friends where they are. You learn from each other. She taught me to pray, and I taught her how to set up an e-mail account.
The friend who first met Sister Monica with me often said, "I need a Monica," or "I want a sister-friend." I dismissed my friend and told her to go out and look for one, but the truth is, sisters aren't that easy to find. And you have to find a retired one to have time for such an intimate friendship. But I hope that sisters do reach out to lay people like me. Because her laugh, our friendship opened a door to a great spiritual flowering in me. Later, I was able to return the favor and ignite spiritual development in her. After I'd returned from a weeklong silent retreat, Monica wrote:
"Your reflections on Christ, comparing your retreat to a honeymoon, very very deeply moving. They inspire me. I will take them with me as I go for my retreat-cum-holiday…I will try to make it a very belated honeymoon with Christ!!"
Eventually, both Sister Monica and I moved from Albany. As sisters do when age makes work more difficult, she returned to her home. Once I was able to visit her in England. I got to stay at the convent with Sister Monica and her sister. One night we visited an Islamic mosque for an interfaith peace gathering. And during my visit, we went to Mass at the convent and quietly did our centering prayer.
Later, friendship became more challenging. Monica had various illnesses that made it hard for her to look at a computer screen, much less write. So I called. I felt uncomfortable speaking of my full and active life when she was practically bedridden, but she wanted to hear all about it. She was a very good listener. She wanted me to experience true joy–what she defined as the hallmark of finding one's calling.
I knew that one day I would phone her and she would no longer be able to talk. I had made a point of calling her the day after Christmas for several years. But in 2014, I had a feeling that she may not be around anymore. I Googled her name, and found an obituary online. Actually it was something she'd written, a reflection of her life. Monica did like to write–and it was clear she wanted to have the last words.
She wrote in the third person: "Monica learned to laugh at herself; to be very serious about what really mattered, yet not solemn, by God's grace."
And then there was my favorite part of her final words…
"At my death, I bequeath any part of my spirit to anyone who wants it!"
It was perfectly Sister Monica. And I wanted my share of her inheritance. I imagined myself reaching into the air and snatching up a piece of her now limitless spirit. I took a walk just as we did during my winter visit to England, together imagining the daffodils and other flowers of spring that would come soon–all "higgeldy-piggeldy," as she said. And I laughed and loved the thought that now, she'd always be laughing with me, closer than we'd ever been.